Hangley Aronchick Segal Pudlin & Schiller shareholder Steve Miano has been honored as a Watershed Hero by the Tookany/Tacony-Frankford Watershed Partnership (TTF). This award recognizes Miano's long career advocating for the environment and our natural resources. The TTF presented this award and others at its Annual Watershed Milestones Award Ceremony and Reception, honoring extraordinary educators, inspiring youth champions, public leaders, dedicated volunteers, nonprofit and corporate stewards, and legacy award winners.
Miano leads the firm's Environmental Law practice, and has more than 25 years of experience in environmental matters, both at the EPA and in private practice. He is a former Chair of the American Bar Association Section on the Environment, Energy, and Natural Resources and is a frequent speaker at the Pennsylvania Environmental Law Forum. He is an advocate for municipalities and schools, and frequently speaks internationally on behalf of TTF and other environmental organizations.
Miano earned his law degree from the University of New Hampshire School of Law and his undergraduate degree in Environmental Studies from George Washington University.
About the Tookany/Tacony-Frankford Watershed Partnership:
The Tookany/Tacony-Frankford Watershed Partnership works to improve the health of the Tookany/Tacony-Frankford Creek watershed by engaging surrounding communities in education, stewardship, restoration, and advocacy. Across the watershed – from the headwaters in our upstream communities of Abington, Cheltenham, Jenkintown, Rockledge, and Springfield in Montgomery County, Pa. – to the downstream neighborhoods in North, Northeast, and Northwest Philadelphia, Pa. – TTF implements programs that educate neighbors and stakeholders about clean water issues and how to make a difference in their backyards, parks, and communities. Learn more at ttfwatershed.org.
Steve Miano receives his Watershed Hero Award (From left: Hon. Steve McCarter, Pennsylvania Representative for Montgomery County;
Julie Slavet, TTF Watershed Partnership's Executive Director; Steve Miano; Anthony Bellmon, staff member from U.S. Representative Brendan Boyle's office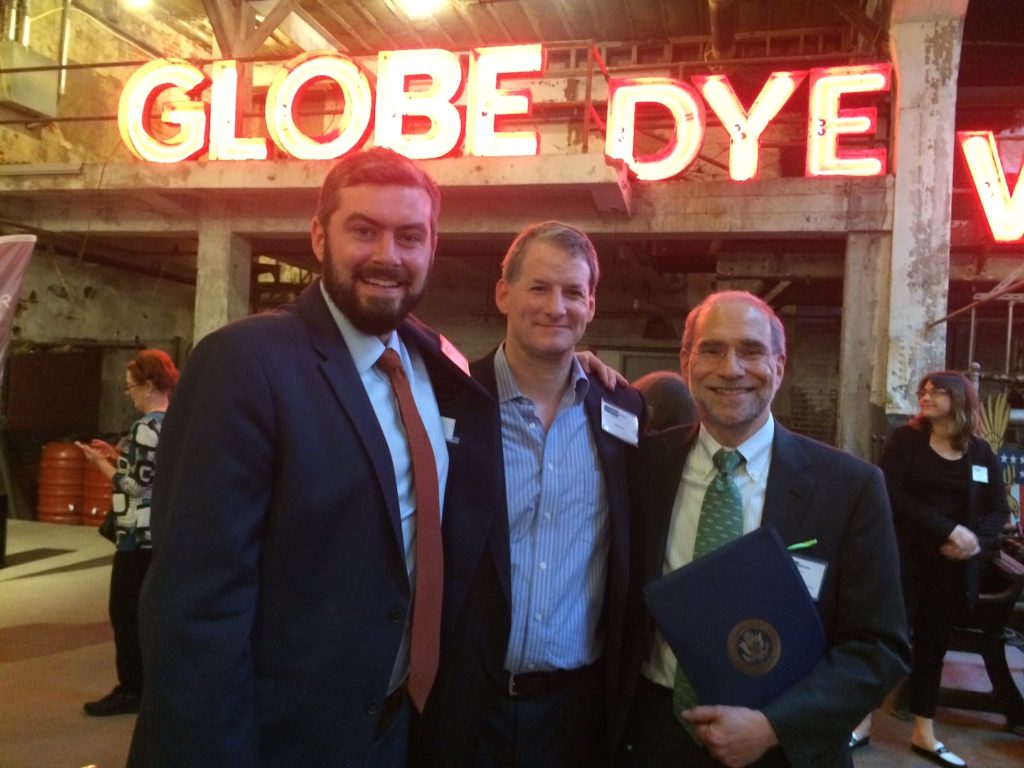 Hangley Aronchick attorneys Peter Keays and Bo Ebby celebrate with Steve Miano at the TTF event, held at Globe Dye Works in Philadelphia.
Share This