Ronald P. Schiller
Shareholder
Education:
University of Pennsylvania Law School
Hangley Aronchick Segal Pudlin & Schiller
One Logan Square
18th & Cherry Streets, 27th Floor
Philadelphia, PA 19103-6933

Phone:
215.496.7020
Fax:
215.851.1020
Biography
Ronald Schiller, Vice Chair of the firm, has a broadly diversified trial and arbitration practice. Ron is a business litigator. Ron advises financial institutions, insurers and reinsurers, technology companies, manufacturers, and service providers on litigation avoidance and strategies for trial and settlement. He has hands-on involvement on a routine basis on sensitive and high exposure matters to his clients. He is frequently brought in to litigation when the client desires a fresh evaluation or for the litigation to be prepared for trial and tried. He has also taken over matters for appeal and currently has an active appeal docket.
Ron has represented the world's largest insurers in sophisticated coverage, bad faith, and reinsurance disputes, including in several trials. Since January 2012, he and his team have prepared several insurance coverage disputes for trial, with one ending in a pretrial Phase One result. A substantial part of Ron's practice includes representing insurers and reinsurers against healthcare and managed care companies on E&O, D&O, reinsurance, and ERISA coverage disputes in litigation around the country. In one such matter, in which Ron's team represented two insurers against a large managed care company, the United States District Court for the District of Minnesota granted summary judgment to Ron's clients on September 25, 2014, after years of litigation, dismissing a $350 million claim. Ron and his team are currently preparing to try Brandt and other claims in California cases over the next year.
Ron has also represented government contractors and universities in patent and licensing disputes, including in one three-week patent trial in 2012, and his team has represented commercial online services, telecommunication companies, and backbone and equipment providers in high-stakes commercial litigation against competitors and municipalities.
In the last few years alone, Ron and his teams have tried two bad faith cases in state court and handled one multi-week insurance coverage trial in federal court over a claim for approximately $100 million of claimed indemnity and defense exposure. He has also tried two non-jury cases in state and federal courts between insurers, both to wins for the firm's clients. He has prepared and successfully tried arbitrations. He has also been hired to take over cases shortly before trial, and to take over complex litigation for post-trial proceedings for insurers and reinsurers.
The respected English publisher Chambers & Partners recognized Ron in Chambers USA: America's Leading Lawyers for Business, noting that clients admire him as "someone who consistently wins big cases." He has repeatedly been selected by his peers as a Pennsylvania Super Lawyer and has been named in The Best Lawyers in America.
Education
University of Pennsylvania Law School, Philadelphia, Pennsylvania, 1984, JD
Temple University, Philadelphia, Pennsylvania, 1981, BA, summa cum laude
Honors and Awards
Named a Leader in Insurance Law by Chambers USA: America's Leading Lawyers for Business
Best Lawyers in America, selected as a Best Lawyer in America in Insurance Law and Commercial Litigation
Best Lawyers in America, 2014 Philadelphia Lawyer of the Year - Insurance Law
Named a Local Litigation Star by Benchmark: The Definitive Guide to America's Leading Litigation Firms and Attorneys
University of Pennsylvania Law Review, Associate Editor and Editor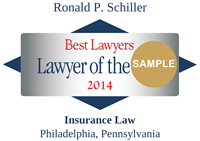 Professional Associations and Memberships
American Bar Association
Philadelphia Bar Association

Business Litigation Section
Insurance Committee
Teaching / Lecturing
"Déjà Vu: Relitigating Adjudicated Facts in the Coverage Action," DRI Insurance Coverage and Claims Institute, April 3, 2014
"Ethics," National Business Institute's Insurance Law 2013 Seminar, October 25, 2013
"Attorney-Client Privilege and Work Product Issues," Pennsylvania Bar Institute's Discovery in Bad Faith Claims: Strategies, Common Disputes, and Emerging Issues program, December 5, 2012
"Bad Faith Claims Litigation," Pennsylvania Bar Institute, May 12, 2011
"Asbestos and Other Long-Tail Claims: Europe, the UK, and the Latest on US Tort Reform," 9th Annual C5 European Summit on Reinsurance Claims, 2006
"Pennsylvania Bad Faith," National Business Institute seminars, 2006 – 2008
Mealey's Bad Faith Litigation Conference, 2007, speaker
Bar Admissions
Pennsylvania
New York
Supreme Court of the United States
United States Court of Appeals for the First Circuit
United States Court of Appeals for the Second Circuit
United States Court of Appeals for the Third Circuit
United States Court of Appeals for the Sixth Circuit
United States Court of Appeals for the Eighth Circuit
United States Court of Appeals for the Ninth Circuit
United States District Court for the Eastern District of Pennsylvania
United States District Court for the Middle District of Pennsylvania
United States District Court for the Western District of Pennsylvania
United States District Court for the Northern District of New York
United States District Court for the Southern District of New York
United States District Court for the Northern District of Florida
United States District Court for the Eastern District of Michigan