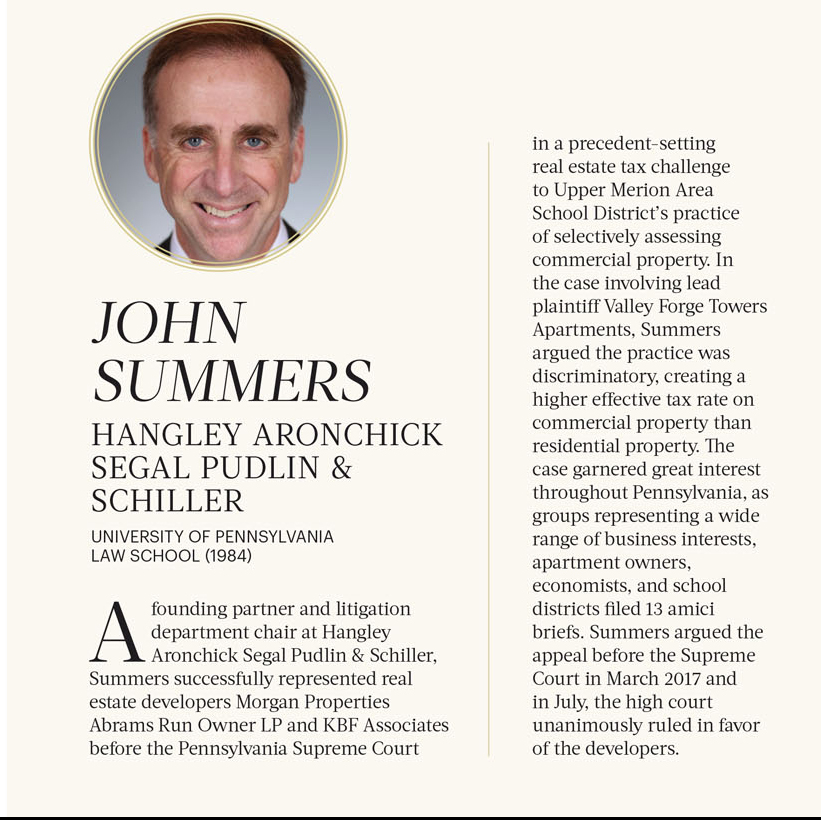 Hangley Aronchick is proud to announce that John Summers has been named to the Philadelphia Business Journal's 2017 Best of the Bar List. The Philadelphia Business Journal states that this award recognizes the top attorneys in the Philadelphia area, based on the high quality of their work and their commitment to serving their communities in 2016 – 2017. This is the second significant honor John has received this year, as The Best Lawyers in America previously named John the 2017 Philadelphia ERISA Litigation Lawyer of the Year.
Chair of the firm's Litigation Department, John is nationally recognized in handling complex cases. Earlier this year, John served as lead counsel for the firm in obtaining a precedent-setting victory in a high-profile real estate tax matter before the Pennsylvania Supreme Court.  In Valley Forge Towers Apartments N. LP et al v. Upper Merion Area School District et al., John and the team successfully argued that a school district's practice of selectively appealing assessments of commercial real estate properties violated the Pennsylvania Constitution's Uniformity Clause. The case already has prompted an increasing number of litigations on behalf of commercial property owners across the state. [Learn more].
In 2017, John also proudly led a team of attorneys from the Pennsylvania Innocence Project in securing the freedom for a wrongfully convicted inmate after 33 years of imprisonment. [Read "Marshall Hale's Long Road to Freedom: Ten Insights Into the Causes of Wrongful Convictions".]
John is a leader in multiple important philanthropic, nonprofit and community matters. Since 2010, he has served as Board Chair of Reinvestment Fund (RF), a nationally recognized community development finance corporation that puts capital and private initiative to work for the public good. He also serves on the serves on the Board of Philadelphia Citizens for Children and Youth (PCCY) and the Board of the Pennsylvania Innocence Project.
John directs the firm's United States Supreme Court Project, a research project that employs econometric techniques to analyze and predict United States Supreme Court decisions. He is a graduate of the University of Pennsylvania Law School, where he served as an Editor of the University of Pennsylvania Law Review, and earned his BA, magna cum laude, with High Honors in Economics, from Wesleyan University.
Read the Philadelphia Business Journal Best of the Bar Article here.
Share This